The Wellington College Teaching School Partnership is passionate about working with schools and partners to help them be the best they can be in their field of education. Our aim is to provide a range of professional development for educational professionals and the objective is to improve the outcomes for pupils in our partner schools. We bring teachers, senior leaders and strategic partners together, focusing upon the needs of educational professionals to help drive school improvements.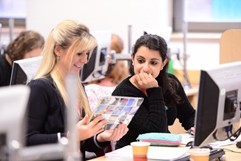 'There is no such thing as a good school, but a school that is full of good teachers' (Wiliam, 2006). From this it follows that investment in educational professionals is a vital part of school improvement. Our vision is to embed a culture of aspiration, collaboration and excellence, and to empower those working in schools to develop a strong learning culture, using a self-improving education system and the sharing of best practice.
Wellington College was awarded Teaching School status in March 2013 and its role is to lead the partnership in the delivery of high-quality training and provision of professional learning opportunities. We encourage an active partnership where schools and strategic partners help to create an inspiring programme of activities.
The Wellington College Teaching School Partnership provides support in the following areas:
(Please visit our website, WCTSP for more detailed information about our work)
Initial Teacher Training (ITT) Our partnership actively recruits new teachers to train and work in our schools. The Wokingham Secondary Federation and other partners play a key role in this area, recruiting through the School Direct programme.
Continuing Professional Development (CPD) We have developed a programme of professional learning courses ranging from core curriculum subjects to courses in coaching and character development. We are continually striving to develop and improve on our offerings to help progress those who have started their professional learning journey with us, and to encourage more to join an outstanding network of school professionals.
Leadership Development The aim of this strand is to contribute to the development of leadership in schools and help schools identify and develop leadership potential. The partnership has delivered leadership training through the NPQML and the Wellington Leaders in Education Programme. The latter has proved to be a popular range of bespoke courses, quality assured by the Department of Education at the University of Oxford, and designed to meet the needs of modern day school leaders. Chartered Management Institute accreditation can be awarded for the Certificate or Diploma qualifications.
School-to-School Support This is available to all partners via a bespoke consultation process and it aims to match excellent practitioners to those areas which have been identified as requiring some form of review and improvement.
Deployment of Specialist Leaders of Education (SLEs) The Partnership has recruited a bank of SLEs to help with the delivery of school to school support. Our SLEs are outstanding middle or senior leaders with specialisms in a particular field who have the skills to support individuals or teams in similar positions in other schools.
Research & Development The value of evidence-based research in schools and the development of a school-based research programme has been identified as playing a key role in staff development and education for the future. The Teaching School Partnership has participated in a number of exciting research projects, some on a national scale, and others of a more bespoke nature.
Wiliam, D. (2006) Assessment for learning: why, what and how? (Cambridge Assessment Network talk)