Wokingham Federation Careers Fair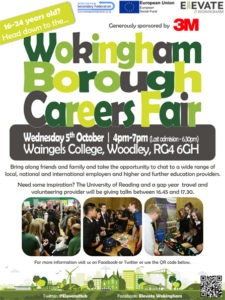 This year's annual careers fair was organised by Wokingham Borough Council's Elevate Employment and Skills Hub and took place on 5 October at Waingels College. The Fair was visited by all Federation schools during the day and all school year 9's to 13's, along with their families and young people who have left school or college, were invited to visit in the evening to find out more about careers, apprenticeships, university, college and work.
Click here to view the Wokingham Schools' Careers Fair flyer.
The Careers Fair was an opportunity for employers to:
Interact with potential employees
Promote training schemes
Help young people make informed decisions
Help young people understand the qualifications they need
Promote sectors and organisations to hundreds of young people and their parents